London Calligraphy Pour Memoires and Placement Cards at Buckingham Palace
The London Calligraphy Design Studio
BESPOKE STATIONERY DESIGN
FOUNDED BY LONDON BASED CALLIGRAPHER AND DESIGNER KATIE NOAKES, LONDON CALLIGRAPHY IS A BOUTIQUE STATIONERY DESIGN STUDIO SPECIALISING IN THE ART OF CALLIGRAPHY, HAND LETTERING AND ILLUSTRATION.
FROM SIMPLE PLACE SETTINGS AND INVITATIONS TO BESPOKE STATIONERY, ILLUSTRATION AND FULL BRAND DESIGN. WE CREATE UNIQUE DESIGNS AND IDEAS TO MAKE YOUR BRANDING AND EVENTS AS SPECIAL AS POSSIBLE
LONDON CALLIGRAPHY HAS A TEAM OF LONDON'S FINEST CALLIGRAPHERS, DESIGNERS AND ILLUSTRATORS. WE SPECIALISE IN MODERN, TRADITIONAL AND ARABIC CALLIGRAPHY.
WE WORK CLOSELY WITH EACH AND EVERY CLIENT TO BUILD CREATIVE IDEAS AND EXCEED EXPECTATIONS.
ILLUSTRATED PLACE SETTINGS,
NET A PORTER
HANDWRITTEN INVITATIONS, BUCKINGHAM PALACE
PERSONALISED GREETINGS CARDS, TIFFANY & CO.
PLACE NAMES, NET A PORTER WEDDING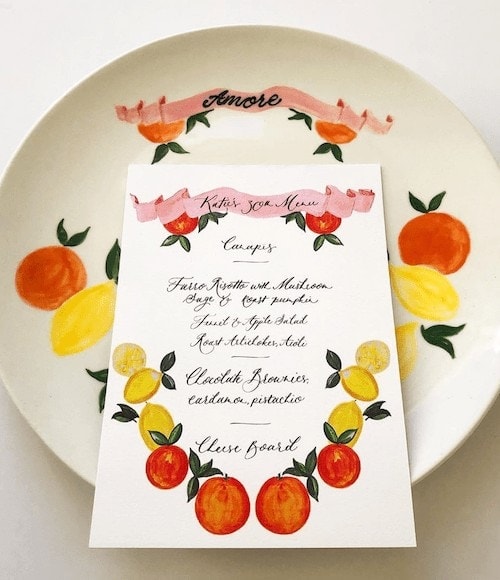 ILLUSTRATED MENU & PLATE DESIGN, PRIVATE PARTY
ILLUSTRATED TABLE NAMES,
NET A PORTER WEDDING
PERSONALISED ENVELOPES,
FASHION WEEK
ILLUSTRATED PLACE SETTINGS,
NET A PORTER
ON-SITE PERSONALISATION & ILLUSTRATION
ADD A PERSONAL TOUCH TO YOUR GUEST'S EXPERIENCE.
KATIE AND HER TALENTED TEAM OF CALLIGRAPHERS CAN ATTEND YOUR EVENT TO OFFER A CALLIGRAPHY AND/OR ILLUSTRATION SERVICE – THIS CAN INCLUDE PERSONALISING YOUR PRODUCTS, LIVE ILLUSTRATIONS, CREATING GIFT TAGS AND GIFT WRAP, CARDS, ENVELOPES, STATIONERY DESIGN, BAGS AND MORE.
PERSONALISED TOTE BAGS,
SEZANE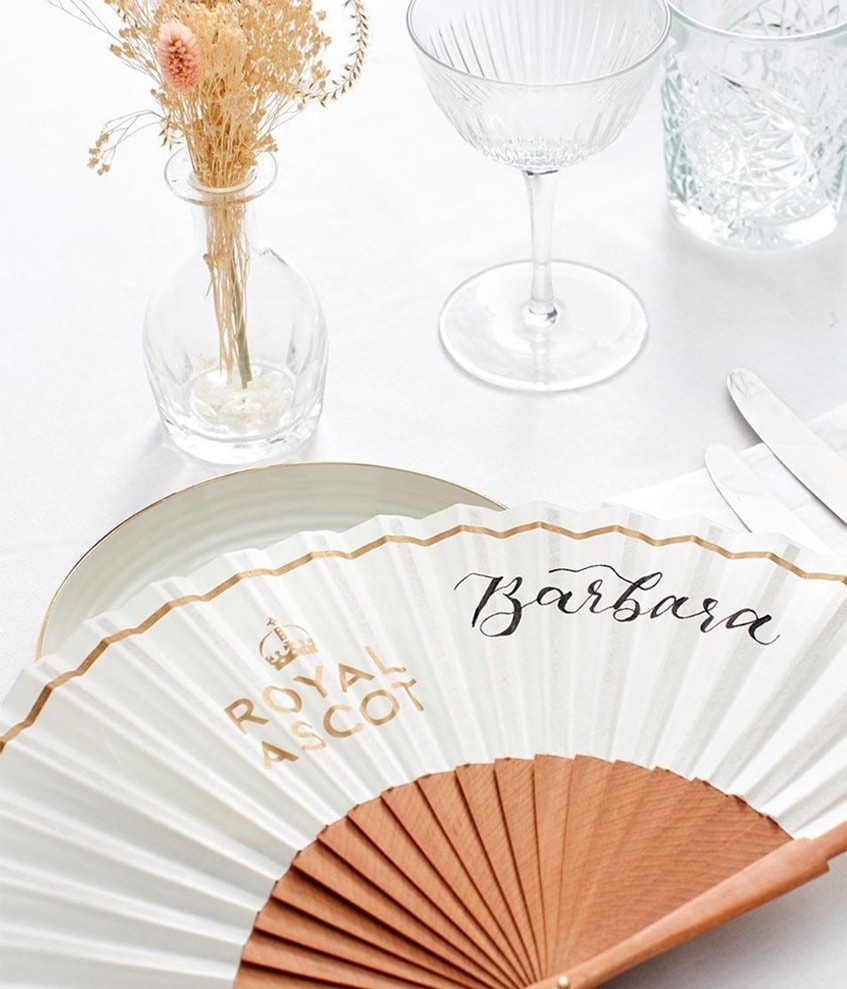 PERSONALISED HAND FANS,
ROYAL ASCOT
PERSONALISED BAUBLES,
NET A PORTER
PERSONALISED GIFT TAGS,
IRIS & INK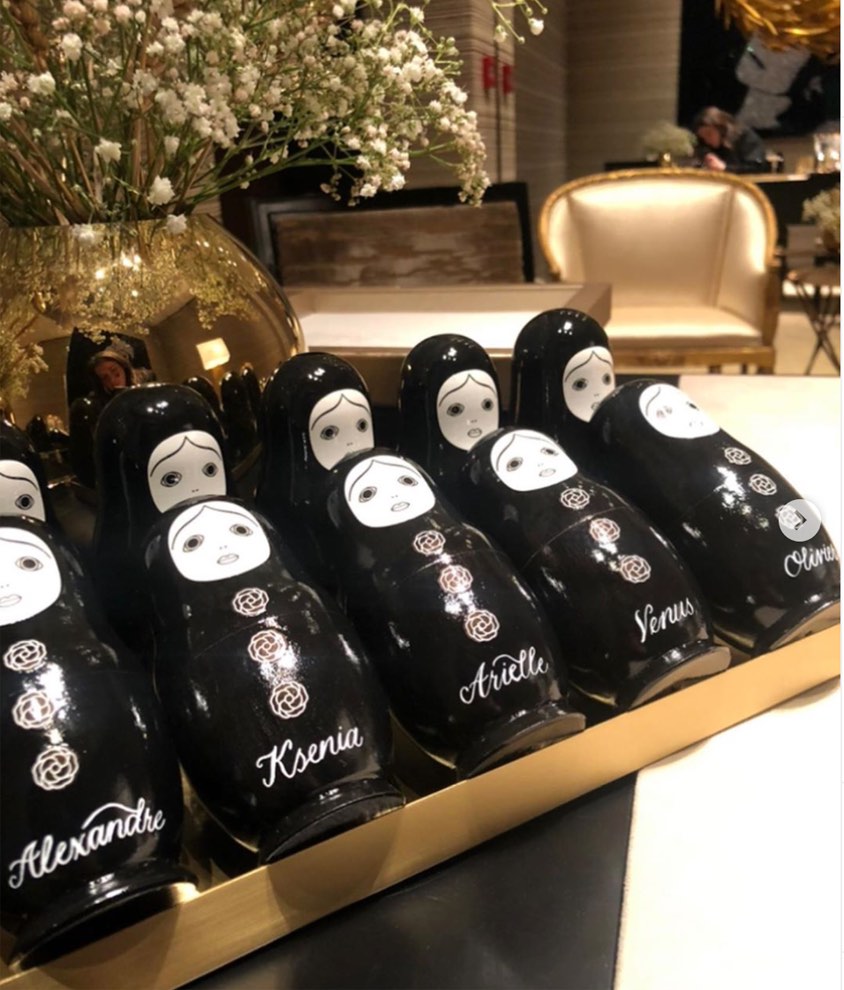 PERSONALISED RUSSIAN DOLLS, CHANEL
PERSONALISED, GIFT WRAPPING, JIGSAW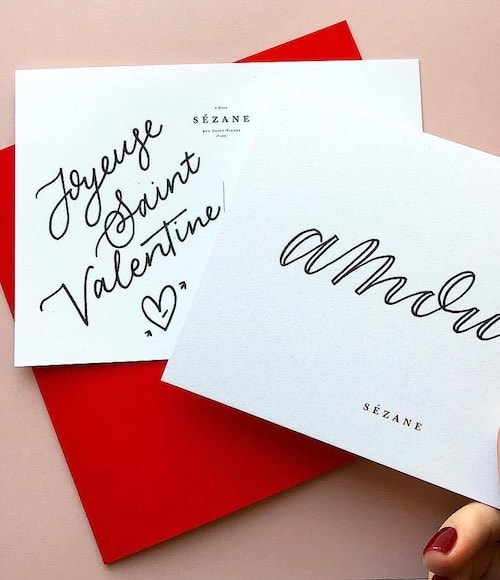 PERSONALISED VALENTINES CARDS, SEZANE
PERSONALISED HATS,
GUARDS POLO CLUB
HAND PAINTED CARDS,
KATE SPADE NEW YORK
PRIVATE & CORPORATE GROUP WORKSHOPS
IMPRESS YOUR CLIENTS & CUSTOMERS, TREAT YOUR TEAM OR HOST A CALLIGRAPHY PARTY FOR FRIENDS
Services
Founded by calligrapher and designer Katie Noakes, London Calligraphy is a boutique design studio specialising in the art of calligraphy, hand lettering and illustration.
With a high level of expertise in design, we create unique, luxury stationery to exceed expectation. From place settings, invitations and on the day stationery to full brand design. We work with each client to come up with bespoke designs and ideas to make your event as special as possible.
Live Events
Katie and her talented team can attend your event to offer a personalised calligraphy or illustration service on the day – this can include personalising your product, creating gift tags, cards, envelopes, bags and more.
We specialise in many different calligraphy styles and can cater to your event and clients. Our styles include modern calligraphy and lettering, traditional calligraphy scripts as well as Chinese and Arabic calligraphy.
We work with many notable clients worldwide including:
Royal Ascot, The Berkeley Hotel, Buckingham Palace, Chanel, Claridge's, The Connaught Hotel, Corinthia Hotel London, Fenwick, Fortnum & Mason, John Lewis, Kikki K, Lillingston Events, The Ned, Net-a-Porter, The Prince's Trust, Selfridges, Sézane, Soho House, Space NK, Tiffany & Co., Vogue and Walpole.
I recently attended the beginners class. I would highly recommend it! Katie was patient and an excellent teacher, it is a great start to any calligraphy journey.
Justin Reeves
April 27, 2021.
They say the devil is in the detail - well that's true of calligraphy and it's true of this course, in the very best way. From the warm welcome at a wonderful venue to the bits and bobs you get to take home, and everything in between, Katie has thought of everything. She's the perfect host and a great teacher - clear, patient, encouraging and inclusive. It's the most enjoyable two hours I've spent for a long time. Well done, Katie and all at London Calligraphy! I hope to see you again soon.
Lisa Payne
April 27, 2021.
Thank you so much Katie, we had a great time at the beginners calligraphy class! Really lovely chilled environment and a great teacher! We learnt so much and feel so inspired, we will be back for the improvers class very soon! Highly recommend if this is something you are interested in! 🙂
Katie Lillywhite
April 26, 2021.
Lovely workshop - great tips & techniques, lots of individual help and pointers too. A great central but quiet location, and tea and cake was fab. Katie has so much insight and knowledge and is so open to share and help everyone improve - would really recommend!
Sue Johnso
April 26, 2021.
The course was very good. I want to write the place settings for my daughters wedding and although I have been practicing I was finding some letters difficult. I loved the fact that Katie helped us all individually with our problems. Katie was very helpful and made you feel your work was worthwhile. I have booked another course . Thank you katie
Consultant 2411
April 21, 2021.
If there were more stars - i would have given them all - What a delightful evening and far better than sitting in front of the telly! What beautiful goodies arrived all wonderfully packaged too. Absolute pleasure. Will practise more and more and go back for the advanced. Katie is an absolute gem - patient and so generous too! This is for you and the kids if they are interested in Calligraphy ... cannot recommend highly enough! Thank you for a lovely evening Katie
Csosz Csengelle
April 14, 2021.
Katie is awesome, as person and as teacher. I really appreciate her effort and her kindness. If you want to learn modern calligraphy, this is exactly what you need!
Such a brilliant class! I did the beginner's calligraphy class over Zoom - the materials are great quality, and the teaching is brilliant - really friendly and easy to follow. Would highly recommend.
Two hours just flew by; I absolutely loved the session and can't wait till the next one. The kit sent out beforehand was a lovely addition. It felt extra special to learn from someone who is so well known in the calligraphy world too! Thank you, Katie!
The lessons are structured and organised, a very good teacher who looks at your work during the lesson and correct you very knowledgeable. The encouragement to persevere and support you is just fabulous.
LONDON CALLIGRAPHY HAS A TEAM OF THE FINEST CALLIGRAPHERS AND ILLUSTRATORS IN LONDON. WE WORK CLOSELY WITH EACH AND EVERY CLIENT TO BUILD CREATIVE IDEAS AND EXCEED EXPECTATIONS.